ROSELLA FLOWER EXTRACT
Helps provide a rejuvenating skin boost and assists with superior hydration for the skin. Encourages collagen production to aids in a healthy glowing complexion. Hydra Boost contains active nutrients that help deliver the requisites to boost collagen and elastin production, with Vitamin C, Amino Acids,Zinc and Copper.
FOR ALL SKIN TYPES AND CONDITIONS

Pro ageing. Preventative and pre-mature ageing. Sun damage. Pigmentation. Special Occasion, targeted skin concerns or as part of a weekly skin regime.
INGREDIENTS

Hibiscus Sabdariffa (Rosella) Flower Extract, 0.2% Sodium Benzoate, 0.05% Xanthan Gum.

100% biodegradable and made from natural coconut fibres which mould to the face to aid serum absorption.

Our serums contain the smallest percentage of Sodium Benzoate, a safe preservative. To preserve the natural plant extracts while not compromising the results that Biologi delivers.
PHYTO-ACTIVES

Phyto-actives are actives extracted from plants, delivered in the plants liquid matrix in a active stable form.

Anthocyanin - Provides antioxidant protection that helps inhibit free radicals. Helps to reduce redness.
Chlorogenic Acid - Helps with antioxidant properties to protect the skin against oxidative stress.
Flavonoid Glycoside - A flavonoid that aids in reducing inflammatory mediators.
Flavonoids - Rutin and Quercetin are high in antioxidant qualities and assist in providing antioxidant protection. Rutin helps in strengthening and protecting capillary wall integrity to reduce redness. Quercetin is skin soothing and high in antioxidant properties.
Glutamic Acid - An Amino Acid that is hydrating and skin conditioning.
Vitamin C - Brightens skin, is essential for collagen biosynthesis, helps stimulate the immunity of the skin by having anti-inflammatory properties and is a superior antioxidant by donating electrons to neutralise free radicals and stop oxidative stress.
Amino Acids: Hydroxyproline, Proline And Glycine - Amino Acids that are involved in collagen biosynthesis. They help to keep the skin structure strong and supported. These amino acids help to improve skin elasticity, increase collagen production, and promote skin repair and regeneration.
HOW TO USE

Remove mask from packet and peel away outer layer of gauze.
Place mask onto skin and peel away the other layer of gauze.
Smooth mask over face and leave for 15 - 20 minutes.
Remove mask and lightly massage excess serum into skin.
Regular price
Sale price
$28.18 AUD
Unit price
per
Sale
Sold out
View full details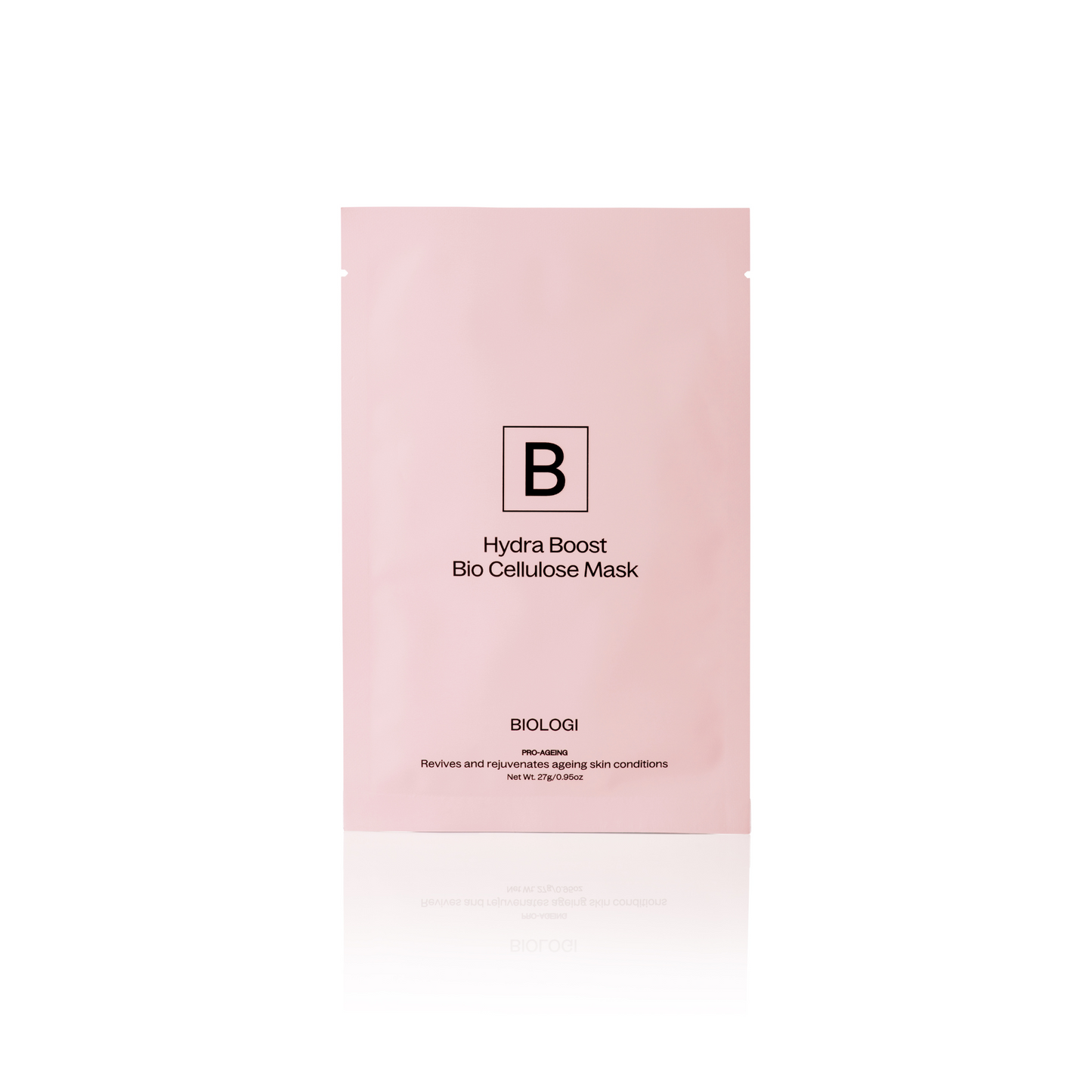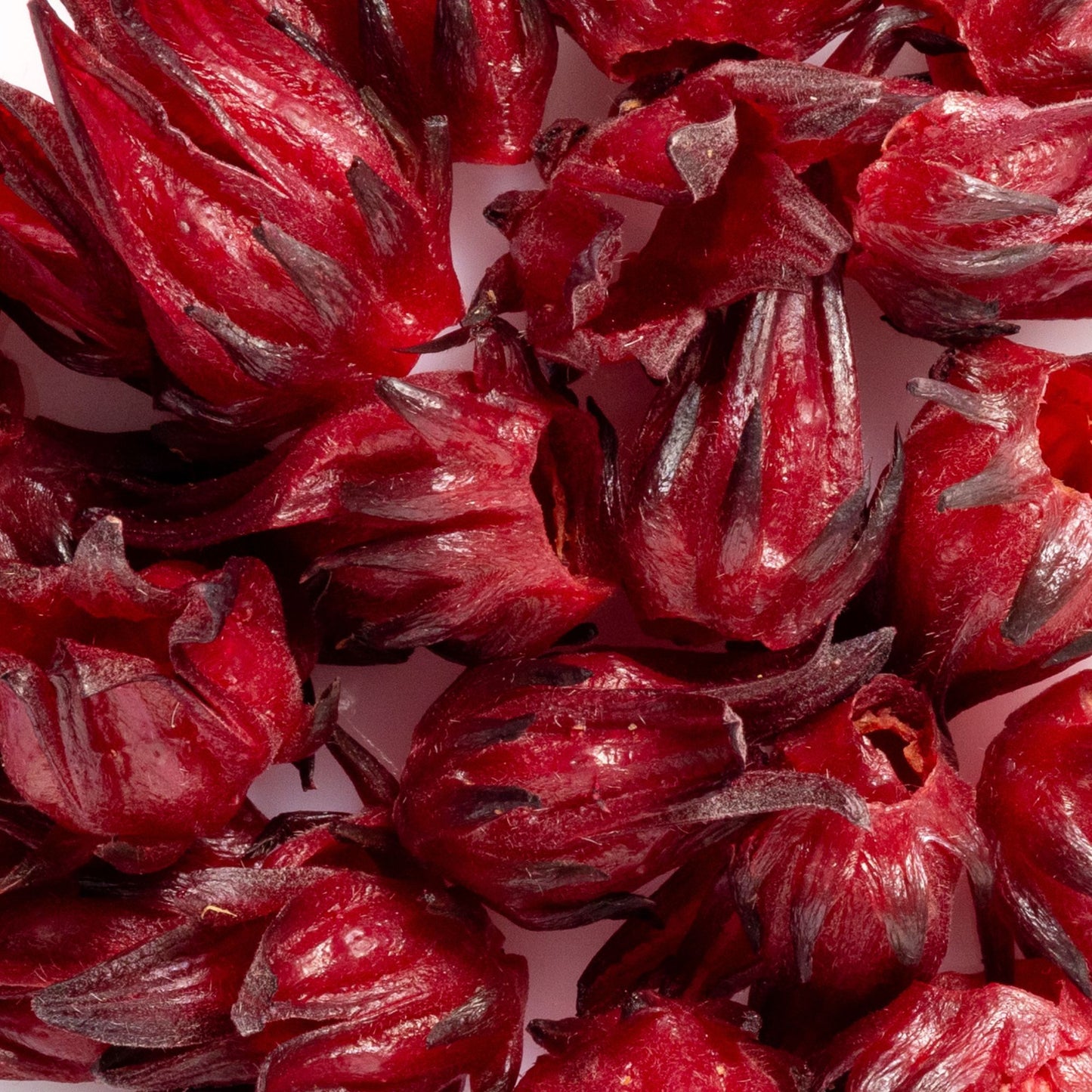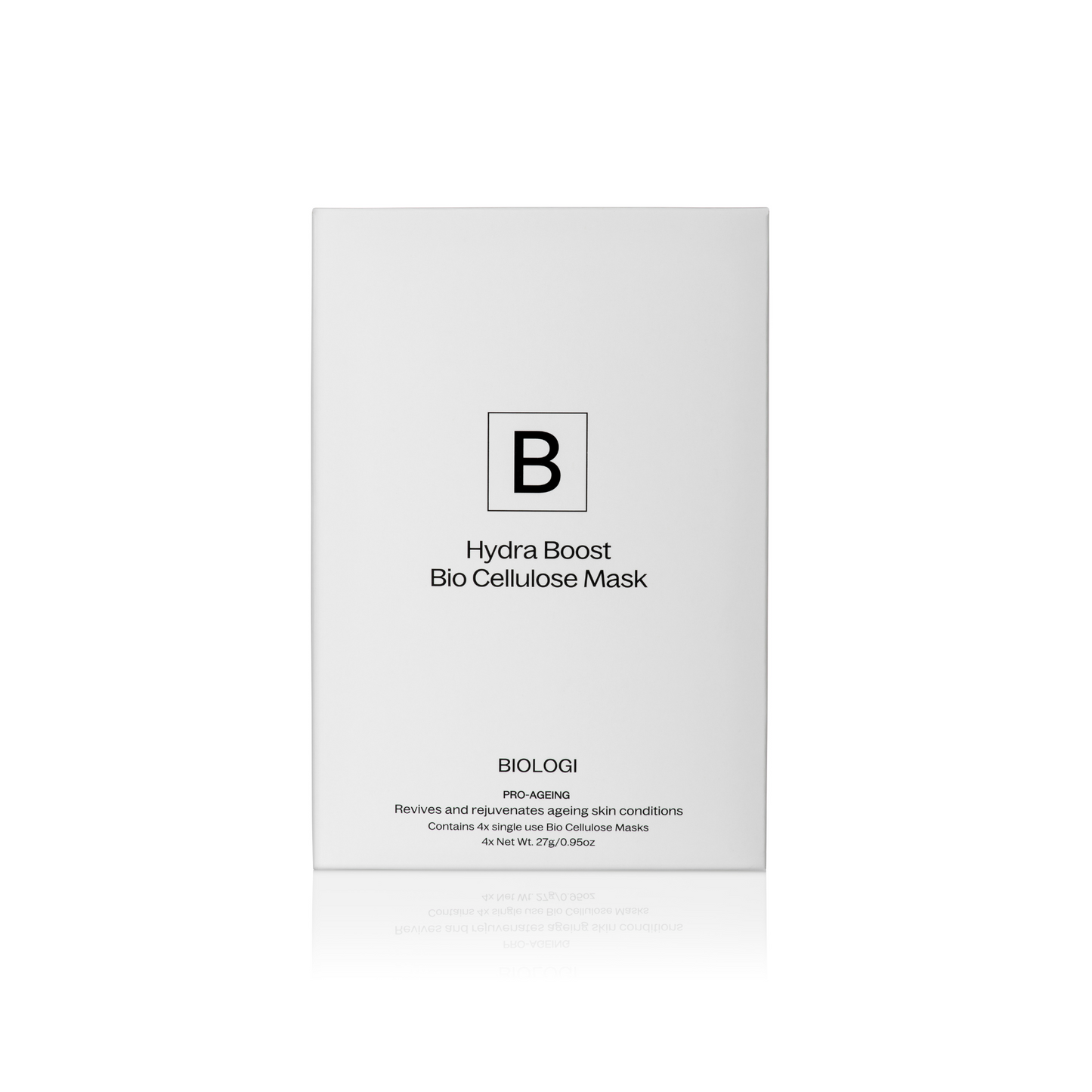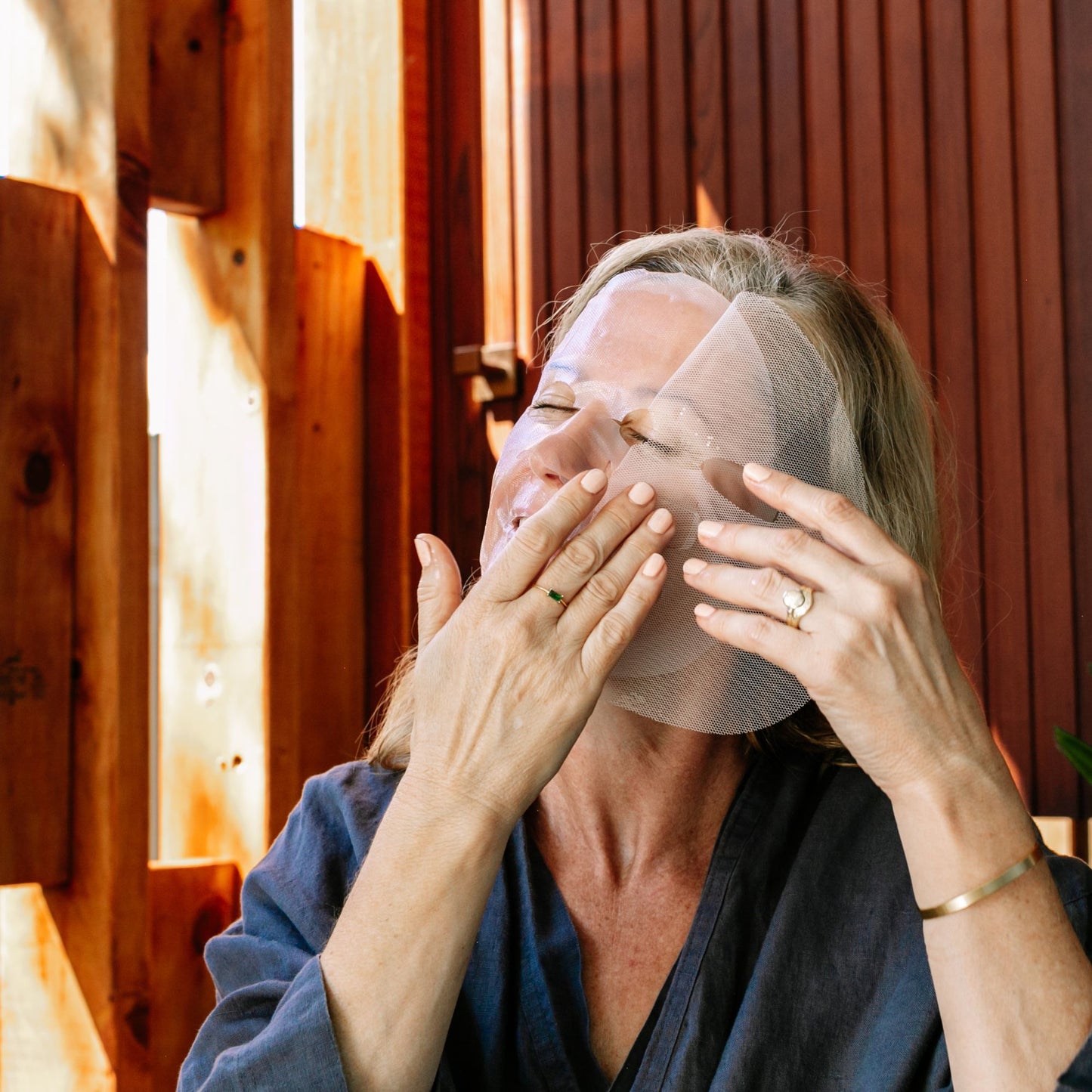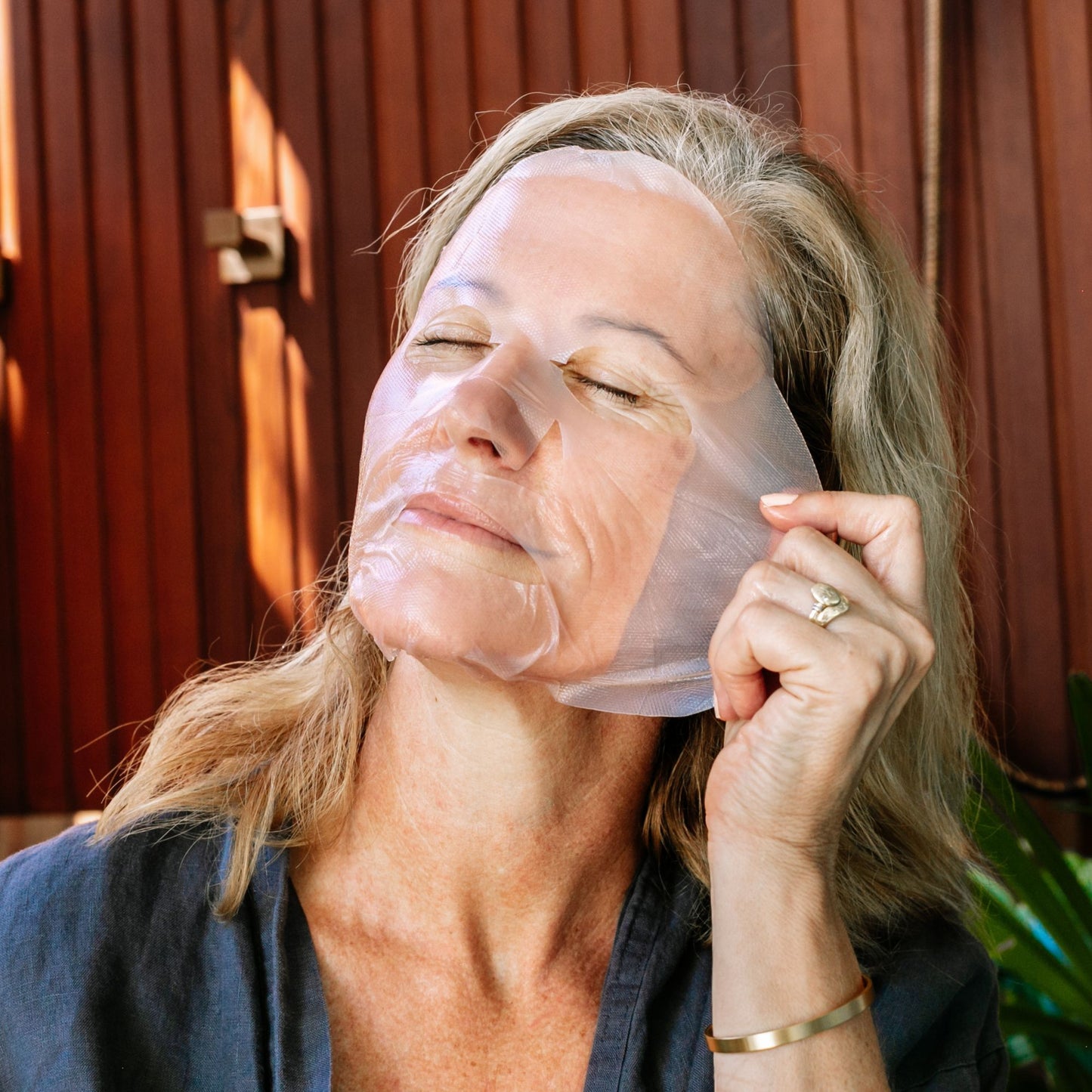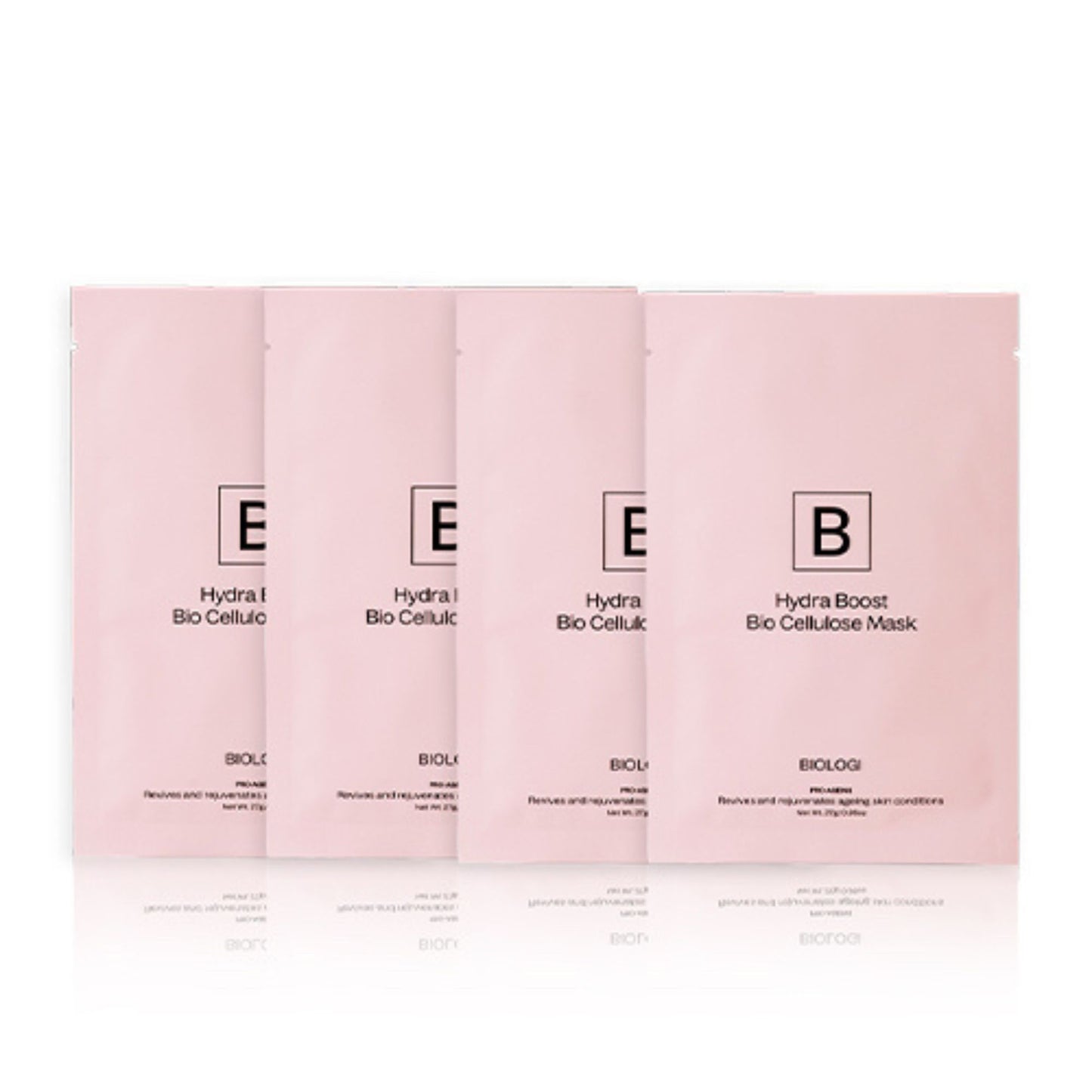 Game-changing!
Easy to apply, feels truely unique when wearing, potent, active and effective.
Not your regular sheet mask.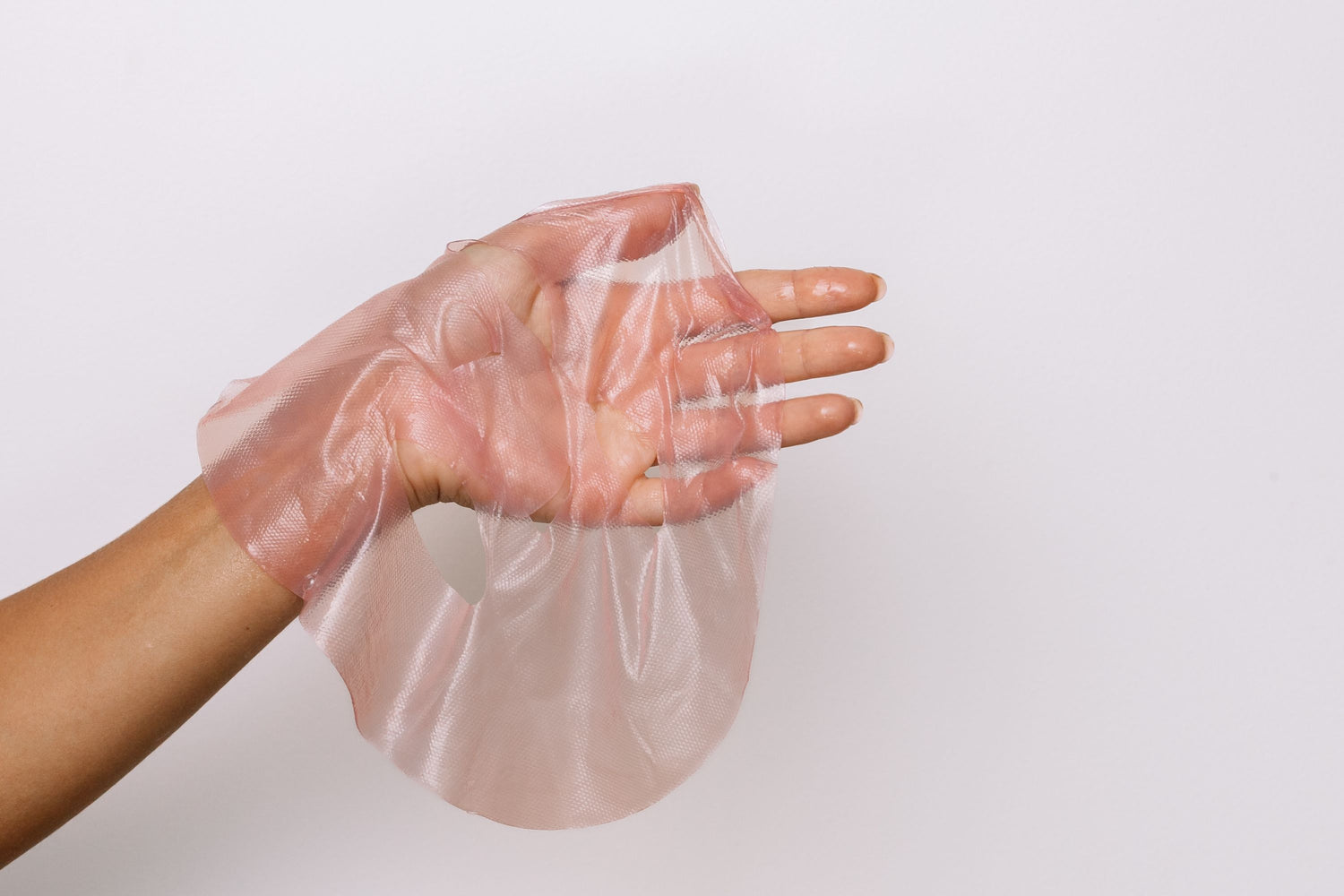 Use for
An exceptional clean pro-ageing facial mask that contains targeted plant-actives and nutrients to encourage a skin boost to revitalise the skin. With regular use, this potent and active mask assists with energising and provides the skin with a hydrated glowing complexion.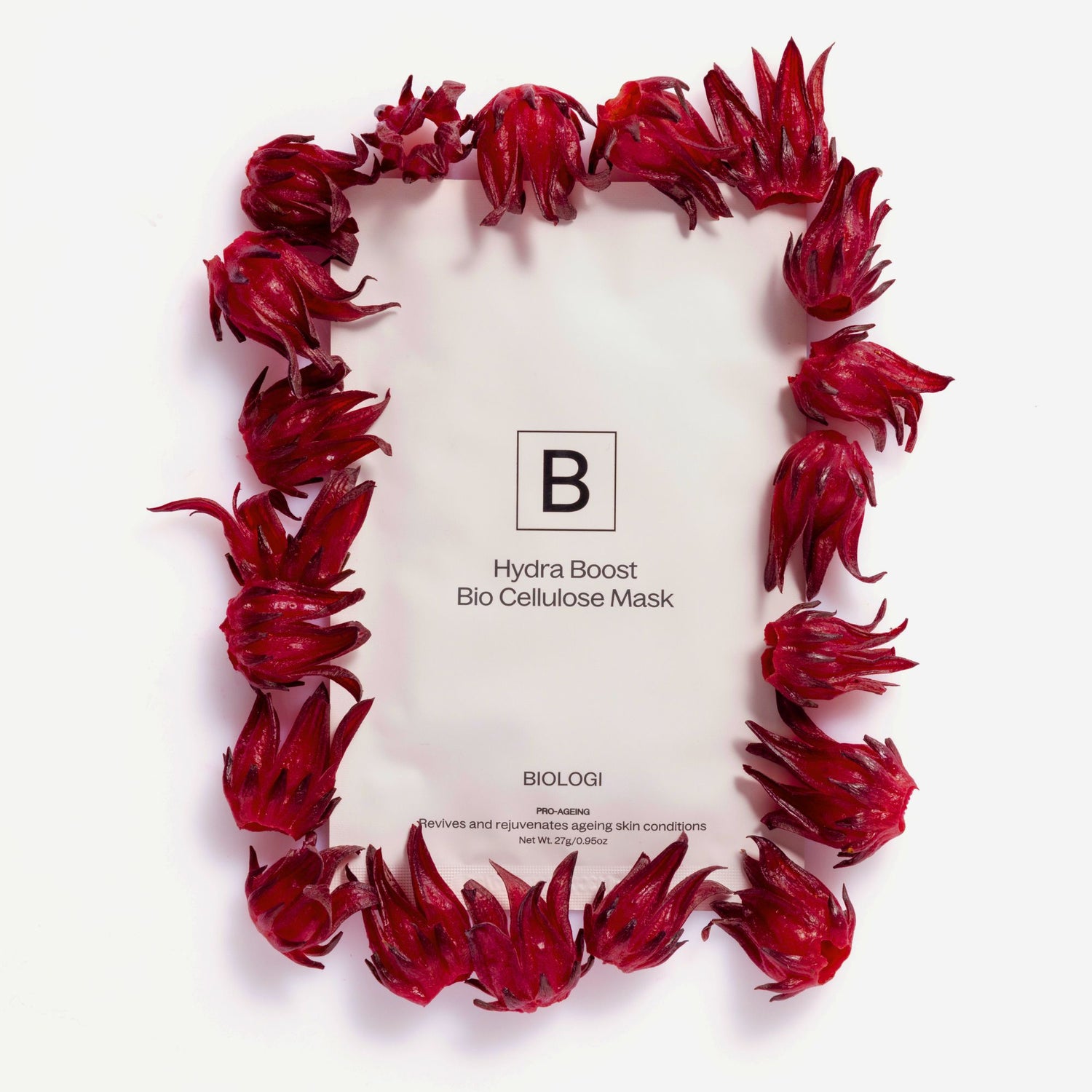 Rosella Flower
Our Rosella is cultivated and ethically sourced from Egypt. Rosella grows across a wide climate range from arid, dry temperate regions The rosella produces flowers and it's the calyces which are the sepals of a flower that form a "whorl" that encloses the petals and forms a protective layer around a flower in bud. Rosella is abundant in polyphenols, vitamin C and amino acids.
LEARN MORE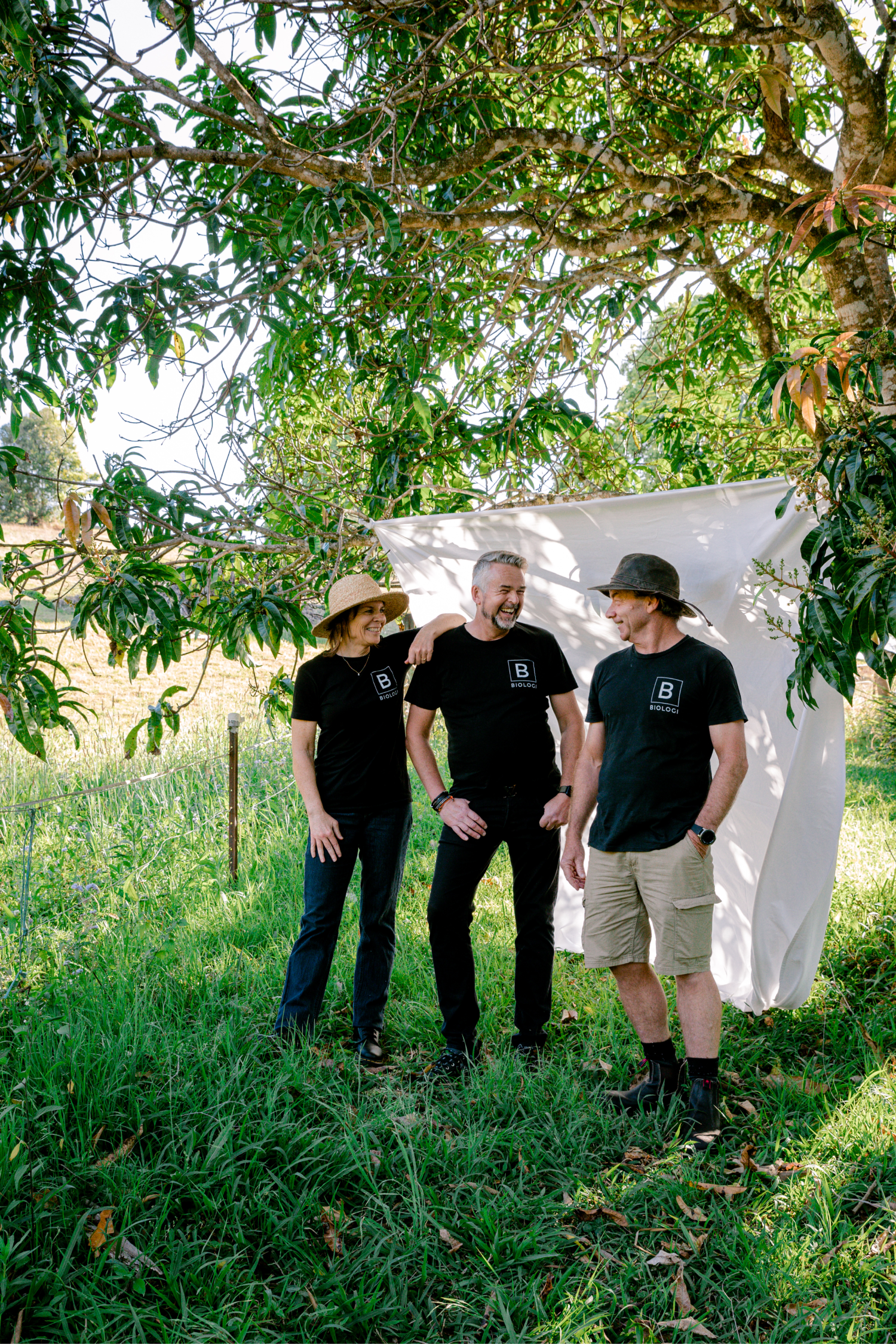 The story
Founded in 2017, Biologi is a profoundly different approach to skincare that delivers unheard of results. Australian based, made and owned, we are entirely accountable for the production process and lifecycle of our products - from plant to bottle to pore.
READ MORE
Frequently Asked Questions
Are There Any Skin Types Or Skin Conditions That Shouldn't Use Hydra Boost Mask?

Highly sensitised, sensitised or barrier impaired. Open lesions/wounds/broken skin.
What Is Bio Cellulose?

Bio cellulose is made from fully compostable coconut fibres that are made from fermented coconut fruit extract. Its tightly woven fibres provide a superior strong and pliable mask that has exceptional hydration qualities that helps to retain and give moisture. It also allows for excellent ingredient penetration and absorption. Its soft pliable texture contours the face easily allowing the actives to penetrate and absorb, for optimal skin results.
Is The Hydra Boost Mask Safe To Use During Pregnancy?

This mask is stimulating, therefore we recommend the Hydra Calm during pregnancy, however as with any new product, you may want to check with your medical practitioner if you are pregnant.
Does Hydra Boost Mask Contain Other Ingredients?

Yes, the Bio Cellulose Mask contains a small percentage of Xanthan Gum (0.05%) which is a natural food grade ingredient. Due to the nature of our pure extracts blending with the bio cellulose mask, it is used sparingly as thickener to provide best mask ingredient application benefits. It also ensures no mess or waste.
My Skin Is A Little Flushed/Pink After Removal, Is This Normal?

Yes, the Hydra Boost is an active mask, it's designed to help rejuvenate the skin, therefore some pinkness of the skin is normal and expected. This will subside to leave your skin with a glowing complexion.