The Science
Using Plant Extracts exclusive, revolutionary C.L.E.C.S. II™ extraction method, our high performing and award winning skincare has been developed from 12 years of research and understanding of cellular health and function.
By perfecting the ability to extract plant nutrients in their own liquid matrix with Bio-Key™ technology, this protects the natural actives and allows the serum to perform on the skin just as it does in the plant. Plant Extracts innovative extraction method captures the plants water-soluble phyto-active nutrients at their most powerful.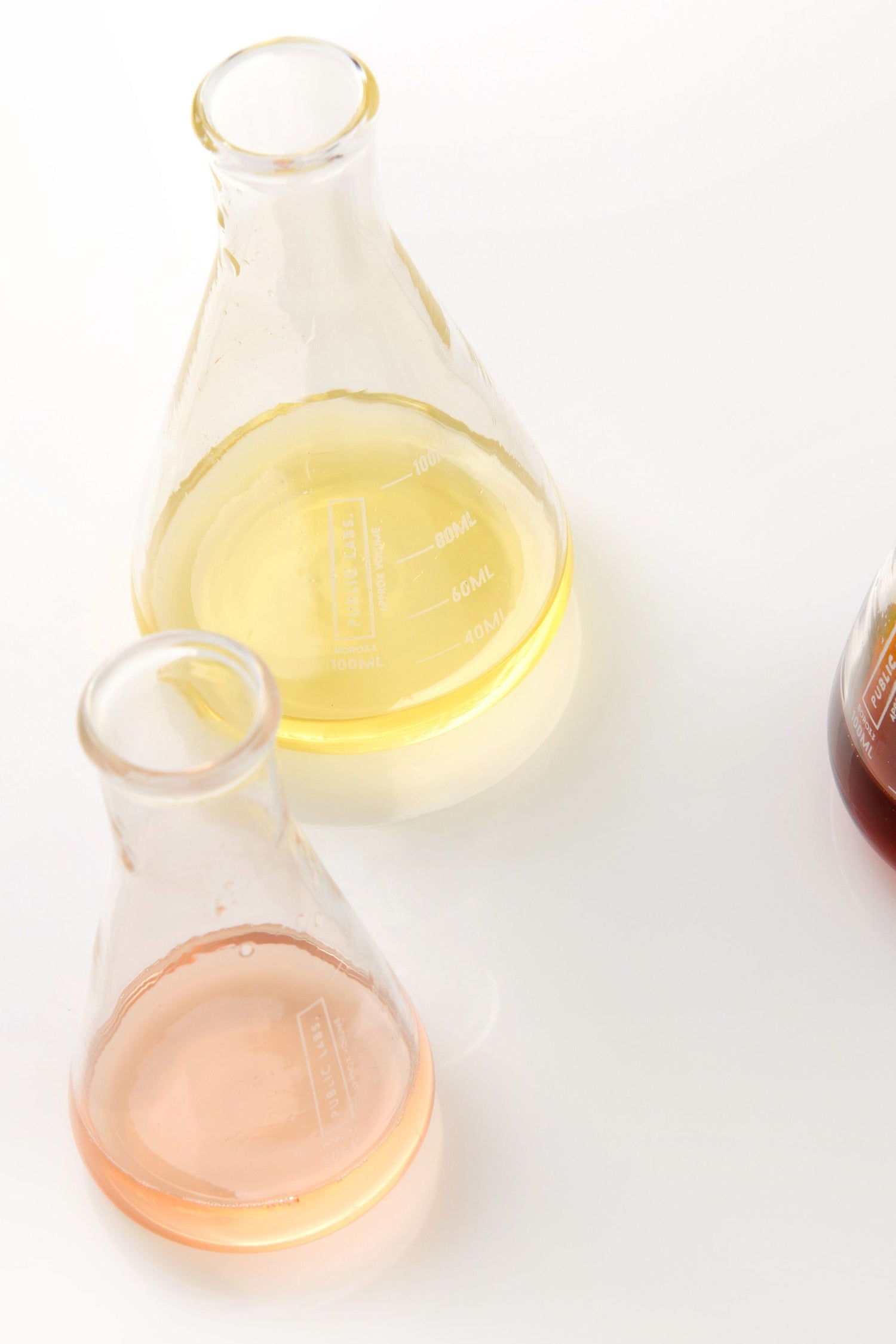 The Extraction Method
The liquid matrix (Bio-Key™) that flows throughout the plant is extracted using C.L.E.C.S.  II™ (cold liquid extraction closed system) This system protects the plant's phyto-actives from breaking down once extracted. 
Historically, prior to Plant Extracts and Biologi serums, plant phytonutrients and/or extracts available either came in a liquid or powdered form. The liquid extracts were produced from either percolation or maceration extraction technologies. These ancient technologies use a liquid extractant mostly ethanol/water which is added to a dried plant material. This process results in the plant losing most of its phyto-actives and may require the addition of preservatives and or synthetic actives added to it.
At Biologi, with the scientific knowhow of Plant Extracts, we harness nature without altering it. The benefits of fruits extracted using C.L.E.C.S. II™ technology gives your skin the advantage over skincare built with synthetics. Biologi is not a juice, powder, or synthetically derived – it is simply delivering of life force from the plants cellular structure to your skin.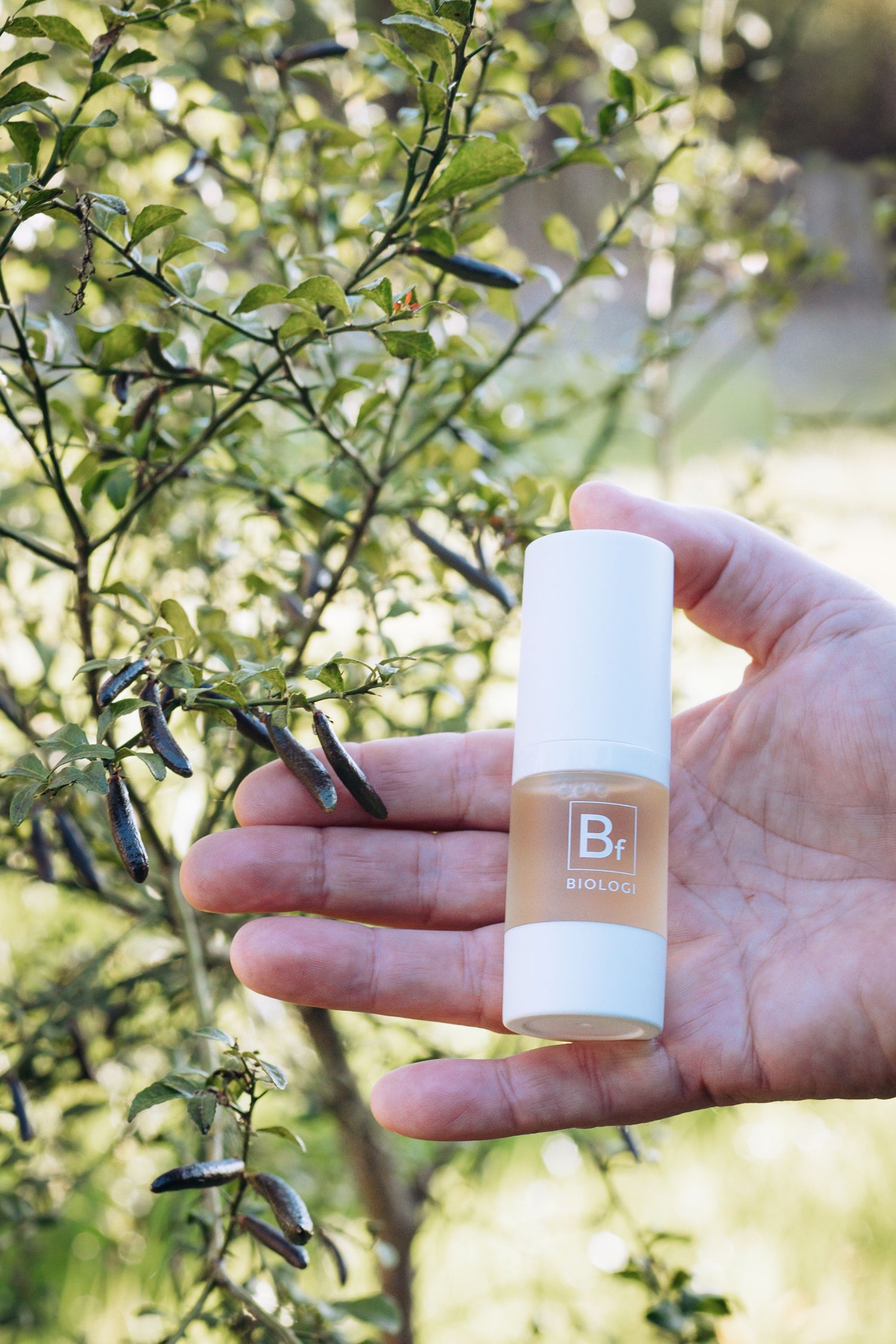 The Unique Process
Biologi offers advanced protection and more efficient cellular repair through a scientific understanding of what skin cells need to thrive. Plant Extracts' discoveries consider the inner workings of botanical sources which, when paired with revolutionary extraction technology, allow us to provide plant nutrients in their active, stable form for the first time ever.
Plant Extracts is responsible for selecting plants, farmers and through to extraction and extract production through to Biologi bottling the liquid providing consumers with transformative skincare that works without compromising cellular matrix of your skin. From plant to bottle to pore.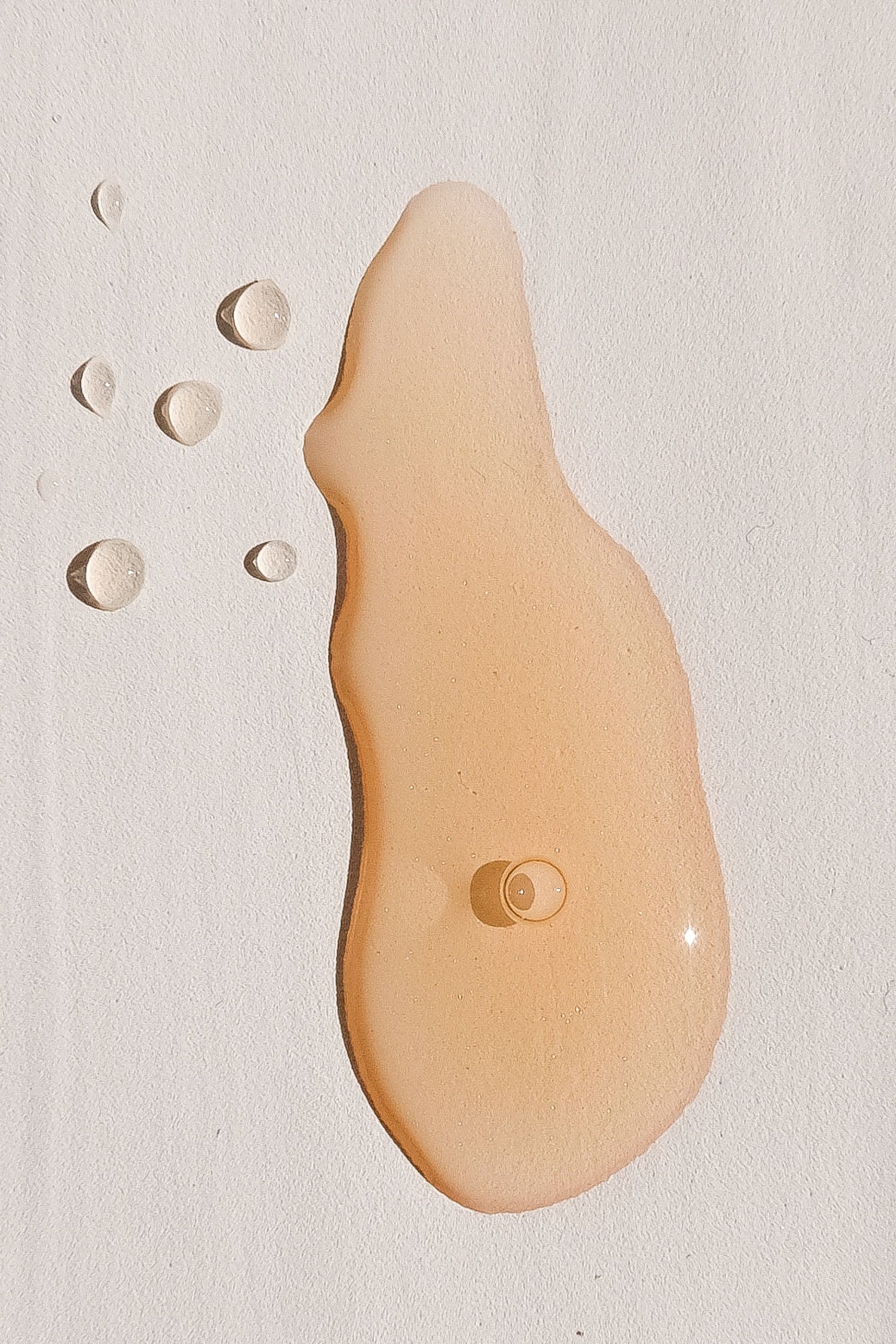 What Does Active Mean?
Biologi is formulated to be active. Being water soluble, means that the delivery system of our products and their active ingredients within the Bio-Key™ are readily accepted into the skin. Our nutrients are delivered within the plant's liquid matrix which keeps them stable.
The liquid matrix contains the Bio-Key™ which allows effective delivery, and it is this factor that makes our serums as bioavailable as the plants themselves.
Only with the Bio-Key™ will substances be bioavailable to be absorbed into the skin.
Active Nutrients
Gallic Acid

The Science

Gallic acid is a phenolic acid that works as a potent anti-oxidant, reduces DNA damage, inhibits melanogenesis and improves inflammatory skin disorders.

Why Do I Need Gallic Acid?

Reduce sun spots and under-eye dark circles

Anti-oxidant to protect from free radicals and environmental damage
Protocatechuic Acid

The Science

Protocatechuic Acid is a type of polyphenol and rich in antioxidant properties, this phyto nutrient helps to reduce oxidation by scavenging free radicals.

Why Do I Need Protocatechuic Acid.

Helps to reduce redness, Provides antioxidant properties, Calms the skin and promotes Anti-ageing at a cellular level.
Chlorogenic Acid

The Science

Chlorogenic acid is a phenolic acid that contains significant antioxidant activity. While protecting against UV radiation, chlorogenic acid also balances complexion, reduces pigmentation and reduces the signs of premature ageing.

Why Do I Need Chlorogenic Acid.

Balance complexion, Reduces redness, Protection from damaging free radicals, Helps to prevent skin alterations such as pigment and sunspots and Defy the signs of ageing.
Rutin

The Science

As a flavone glycoside, Rutin is a powerful antioxidant with potent calming potential. Rutin improves skin elasticity to reduce the appearance of fine lines and wrinkles and refines skin to give a clear complexion and even tone.

Why Do I Need Rutin?

Reduce fine lines and wrinkles. Reduce the appearance of sunspots. Increase skin elasticity to reduce the signs of ageing. Reduce redness to balance the complexion.
Tartaric Acid

The Science

Tartaric acid is a natural fruit acid that stimulates cell growth to modulate skin barrier function. Further, tartaric acid clears blocked pores to reduce the impact of acne and reduces coloured pigmentation allowing even skin colour

Why Do I Need Tartaric Acid?

Create a barrier against environmental damage

Clear blocked pores

Reduce redness

Reduce dark under-eye circles

Reduce sunspots
Anthocyanin

The Science

Anthocyanin is a flavonoid that reduces DNA damage, improves mitochondrial functionality, provides protection from UV radiation and promotes new cell growth for a bright, even complexion.

Why Do I Need Anthocyanin?

Anti-ageing

Restore skin damaged by free radicals

Hydration

Reduce sunspots

Bright, luminous complexion
Quercetin

The Science

Quercetin is a flavonoid that reduces inflammation to help reduce the redness caused by sensitive skin and skin complaints such as acne. Quercetin also provides powerful antioxidant protection against damaging free radicals.

Why Do I Need Quercetin?

Strengthen skin's protective barrier to defend against environmental damage

Helps recover against overexposure to the sun

Reduce redness and inflammation caused by acne and breakouts
Vitamin C

The Science

Vitamin C from a natural source increases the suppleness of skin, reduces fine lines and wrinkles, increases elasticity, inhibits melanogenesis and reduces dark circles and sunspots. The powerful active nutrient also helps combat skin damage from harmful UV rays.

Why Do I Need Vitamin C?

Hydration

Anti-ageing

Skin brightening

Reduce sun spots, blemishes and dark circles

Anti-oxidant to protect from free radicals and environmental damage
Tryptophan

The Science

Tryptophan is an alpha amino acid that helps protect the skin from damaging environmental factors such as UV damage that can cause dryness and sensitivity to delicate skin cells. Tryptophan builds protein hydrolysate to lock in moisture and hydrate and strengthen skin cells deep within the dermal layer.

Why Do I Need Tryptophan?

Hydration

Protection against free radical and environmental damage

Strengthen skin cells
Ferulic Acid

The Science

Ferulic acid is a hydroxycinnamic acid that hydrates and protects against free radical and environmental damage caused from exposure to UV rays and pollution.

Why Do I Need Ferulic Acid?

Significant protection from UV radiation

Hydration

Prevention of skin alterations such as sun and age spots and skin blemishes

Prevents early ageing
Amino Acids

The Science

Amino acids work to naturally condition skin while reducing redness and irritation. The significant antioxidant activity builds protection against free radicals to strengthen cells while leaving the complexion smooth and supple.

Why Do I Need Amino Acids?

Condition skin

Anti-inflammatory activity to reduce redness and irritation

Create a balanced, more even tone

Builds antioxidant protection
Triterpene Glycosides

The Science

Triterpene glycosides naturally contain significant antioxidant activity to protect against free radical damage while contributing to a brighter complexion. The actives work as a natural foaming and cleansing active that gives the cleanser a soapy texture. As a potent anti-inflammatory active, triterpene glycosides give the cleanser its soapy texture reducing redness and fighting against the early signs of ageing.

Why Do I Need Triterpene Glycosides?

Natural foaming agent

Reduce visibility of sunspots

Brighten complexion

Anti-ageing active

Build antioxidant protection
Amines

The Science

Amines are a powerful source of antioxidants functioning to protect the skin against free radical and environmental damage. Amines act to reduce blemishes while building protein hydrolysate moisture into the skin to avoid drying out the complexion while removing surface dirt and oil.

Why Do I Need Amines?

Hydration

May reduce sunspots and blemishes

Build antioxidant protection
Phenolic Acids

The Science

Phenolic acids provide significant antioxidant protection against free radical and environmental damage. While working to reduce redness and irritation, phenolic acid plump skin to reduce the appearance of fine lines and wrinkles.

Why Do I Need Phenolic Acids?

Hydration

Anti-ageing potential

Build antioxidant protection
Ellagic Acid

The Science

Another phenolic acid, ellagic acids helps in the treatment of chronic UV exposure, reduces the potential of photoaging, inhibits melanogenesis and reduces membrane liquid peroxidation and DNA damage.

Why Do I Need Ellagic Acid?

Sunburn

Anti-ageing

Reduces sun spots and dark under-eye circles

Brightens skin
Deoxy Glucitol (Sugar Alcohol)

The Science

Naturally forming deoxy glucitol creates a cooling sensation on the skin helping to heal and soothe irritation. Working to prevent moisture loss and aid hydration, sugar alcohols are safe to ingest and help relive redness and irritation caused by inflammatory lip conditions or overexposure to sun and wind.

Why Do I Need Deoxy Glucitol (Sugar Alcohol)?

Hydration

Cool and soothe irritated skin

Healing anti-inflammatory properties

Significant antioxidant protection from free radicals and environmental damage
Flavone Glycosides

The Science

Flavone Glycosides are a group of phytonutrients that provide high concentrations of antioxidants to protect the skin and defend against free radical damage. Harnessing powerful anti-inflammatory potential, flavone glycosides also reduce redness and irritation while reversing the visible signs of ageing.

Why Do I Need Flavone Glycosides?

Hydration

Significant antioxidant protection from free radicals and environmental damage

Anti-inflammatory and reduce redness

Reduce sun spots and blemishes

Anti-ageing potential
Vitamin A

The Science

Vitamin A is an essential nutrient which works to reduce the visible signs of ageing and promote the integrity of delicate skin cells. Also known as retinol, vitamin A naturally occurring in rosehip oil contains beta carotene making it suitable for sensitive skin types.

Why Do I Need Vitamin A?

Anti-ageing

Hydration

Antioxidant protection

Brightens skin
Vitamin E

The Science

Vitamin E is a potent antioxidant produced naturally in the oil glands. Supporting cell function and overall health of the skin, direct application of active vitamin E enhances the skin's natural processes leaving cells strong, moist and supple.

Why Do I Need Vitamin E?

Antioxidant protection

Reduce UV damage to the skin

Hydration

Strengthen cells