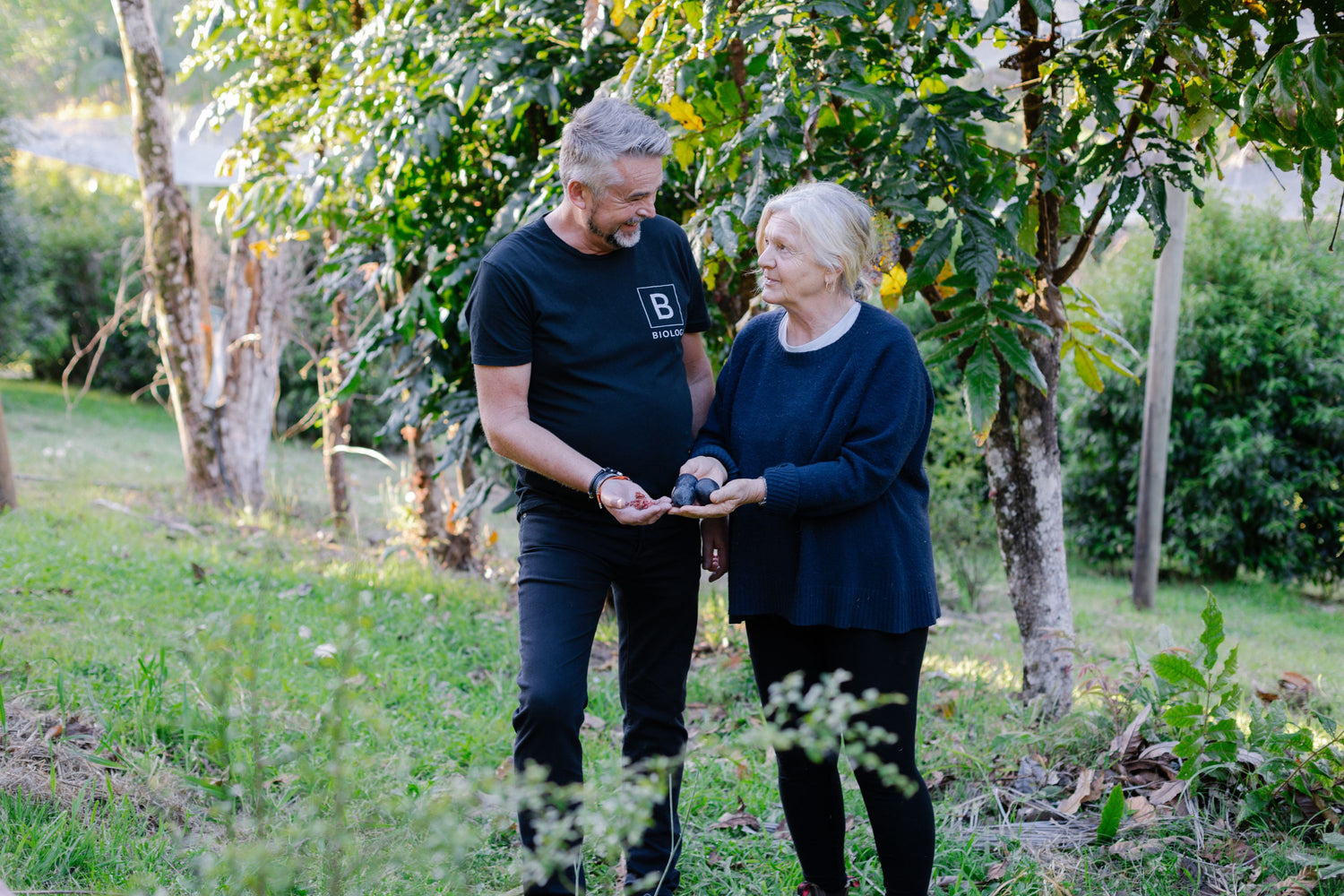 Frequently Asked Questions
If there's something you want to know which isn't here, please reach out and drop us an email at enquiries@biologi.com.au
CONTACT US
Collapsible content
How Will My Skin React To Biologi Serums?

When you first start using Biologi, it's normal to notice a sticky feeling on the skin. This means the active ingredients are working hard to repair the damaged layers. The skin might also become more oily or break out when you use Biologi for the first time. This is only temporary and means the skin is adjusting to 100% active skincare and detoxing synthetic ingredients. Persevere, any side effects are short term and the results will be worth it!
What Benefits Can I Expect For My Skin?

As soon as you start using Biologi, the skin will become more hydrated. The longer you use the products, you'll also notice a luminous glow, redness or pigmentation will start to improve and dark circles under the eyes will reduce.
Why Does My Biologi Serum Change Colour?

Biologi serum is extracted from fruits picked during different seasons which can alter the colour of the natural extracts. Biologi naturally contains phenolic acids which can also appear lighter or darker as time goes on. It's perfectly normal for serums to be a different colour from batch to batch but it doesn't affect the activity.
What Other Products Can I Use With Biologi?

You can use any sunscreen that suits your skin type. You don't need moisturiser, face masks, eye cream or night cream as Biologi is hydrating enough.
How Do I Apply Biologi Serum?

Apply one pump to the face and neck after cleansing. Use one pump for the décolletage. ¼ pump around the eye area and two pumps per body area. Don't layer the serums as mixing them can reduce the efficacy of the active ingredients. Similarly, if the skin is wet, dry thoroughly and wait for five minutes before applying as water can dilute the active ingredients reducing the potency.
Are Biologi Products Suitable For Sensitive Skin?

Biologi has hundreds of successful skin results from customers with sensitive skin that have used Biologi, however, if you have reactive skin, we recommend performing a simple patch test first.
When Shouldn't I Use Biologi?

Biologi does not recommend the use of any Biologi product on open wounds or broken skin. If you are unsure about starting any new skincare product, please refer to your medical practitioner.
How Do I Conduct A Skin Patch Test?

Apply a small amount of product to clean dry skin. We recommend applying to an area of skin that doesn't easily get washed or rubbed off i.e., the inner arm or behind the ear. The general wait time for reaction is approximately 24-48 hours, however in some cases a longer reaction time can occur. Please refer to your medical practitioner if you are unsure about patch testing.
Is Biologi Suitable For Problematic Skin?

Yes! We highly recommend the use of our Bd Luminosity Serum because it contains the fruit extracts from Davidson Plum, an excellent source of natural Tartaric Acid, Anthocyanin and Quercetin. These hard-working phyto-actives can assist in keeping your skin clear, reducing breakouts and associated redness with them. If your skin is irritated, we suggest using the Bf Restore Serum first to help reduce any irritation and then introduce the Bd Luminosity Serum into your regime.
I've Got Stubborn Pigmentation, Is Biologi The Answer?

Yes! However, there are many contributing triggers involved in the overproduction of pigment in the skin. We highly recommend introducing Bqk morning and evening duo serums into your daily regime as they contain powerful phyto-actives that work synergistically to assist in helping inhibit pigment production to brighten and clarify the skin, while reducing redness and providing antioxidant protection.
Is Biologi Safe For Pregnancy & Babies?

Biologi is free from harmful chemicals and irritating synthetics making it pure enough to drink. While we consider Biologi safe for a mum-to-be and breastfeeding mum, for each individual product you can find more information and recommendations. However, as with any new product, or if you are unsure, you may wish to check with your medical practitioner. For babies and children; as a baby's skin is delicate, thinner, and more fragile than adult skin, avoid the use of Biologi on babies under 2 years of age. Whilst many of our customers have seen incredible results using our Bf Restore Face & Body Serum on babies under 2 years of age, we recommend performing a patch test on all babies and children prior to using Biologi and if unsure, we suggest you seek medical advice.
What Is The Cloudy Or Floating Bit In My Serum?

As Biologi products contain natural fruit extracts, it can be common to see cloudiness or pectin floating within our serums from time to time. This is a naturally occurring process that can vary from batch to batch and shows how natural our products are. It doesn't affect the efficacy or freshness of our serums and our recommendation is to give your serum a shake to gently disperse the pectin within. If you have a question regarding your serum, our customer experience team are available to help. 
Are All Biologi Products Suitable To Use Around The Eye Area?

We highly recommend our Bk Vitamin C face & Eye Serum. Apply no more than 1/4 pump (about the size of a rice grain) and gently pat Bk around the orbital bone. Alternatively, if you suffer from skin irritation in this area, you may use Bf Restore Face & Body Serum by applying 1/4 pump (about the size of a rice grain) and patting gently around the orbital bone.
What Should I Do If I Get Product In My Eye Or React To A Serum?

Flush the eye out with plenty of water and if in doubt seek medical advice if necessary.  For any reaction, discontinue use and contact our experienced customer experience team.