MOUNTAIN PEPPER BERRY
Aims to improve collagen production, reduce DNA damage. Helps with skin hydration, protects new cells from environmental damage. Assists in reducing the appearance of wrinkles, refines skin and minimises the look of imperfections.
FOR ALL SKIN TYPES

Excellent for anyone concerned with preventative ageing, premature ageing, ageing skin. Suitable for sensitive skins. Can also be used to target ageing concerns on the neck and décolletage.
INGREDIENTS

99.8% Tasmannia Lanceolata (Mountain Pepper Berry) Fruit Extract, 0.2% Sodium Benzoate

Our serums contain the smallest percentage of Sodium Benzoate, a safe preservative. To preserve the natural plant extracts while not compromising the results that Biologi delivers.
PHYTO-ACTIVES

Phyto-actives are actives extracted from plants, delivered in the plants liquid matrix in a active stable form.

Protocatechuic Acid - is a type of polyphenol and rich in antioxidant properties, this phyto nutrient helps to reduce oxidation by scavenging free radicals. Protocatechuic Acid helps to reduce redness, assists in anti-ageing and provides phenomenal antioxidant properties.
Amino acids - are the building blocks for antioxidant activity that protects skin and reduces the tell tale signs of ageing. Amino acids reduce redness and irritation while conditioning skin leading to a smooth and supple complexion. Amino acids rapidly reduce redness and irritation, condition the skin, boast anti-inflammatory activity, balance complexion, strengthen the skin's barrier and build antioxidant protection.
Anthocyanin - can encourage collagen production and restore skin damaged by overexposure to sun and pollution. The anti-ageing active promotes cellular growth to create a bright, glowing complexion. Anthocyanin helps to increase collagen production to slow the visible signs of ageing, hydrate the skin, reduce sunspots and restore damaged skin leaving you with a glowing complexion.
Rutin - As a flavone glycoside, rutin is a powerful antioxidant with potent anti-inflammatory potential. Rutin improves skin elasticity to reduce the appearance of fine lines and wrinkles and refines skin to give a clear complexion and even tone. Rutin helps to reduce fine lines and wrinkles, sunspots and redness to balance the complexion while increasing skin elasticity to minimise signs of ageing.
Chlorogenic acid - is a phenolic acid that contains significant antioxidant activity. While protecting against UV radiation, chlorogenic acid also balances complexion, reduces pigmentation and reduces the signs of premature ageing. Chlorogenic acid assists in balancing complexion, reducing redness providing protection from damaging free radicals. Also helps to prevent skin alterations such as pigment and sunspots to defy the signs of ageing.
HOW TO USE

One pump to cover face and two pumps to cover face and neck.
Apply SPF during the day.

Week 1: Use once per day. Ongoing: Use the morning and evening.

It is common to experience potential skin adjustment when you first introduce this serum.
Regular price
$116.36 AUD
Regular price
Sale price
$116.36 AUD
Unit price
per
Sale
Sold out
View full details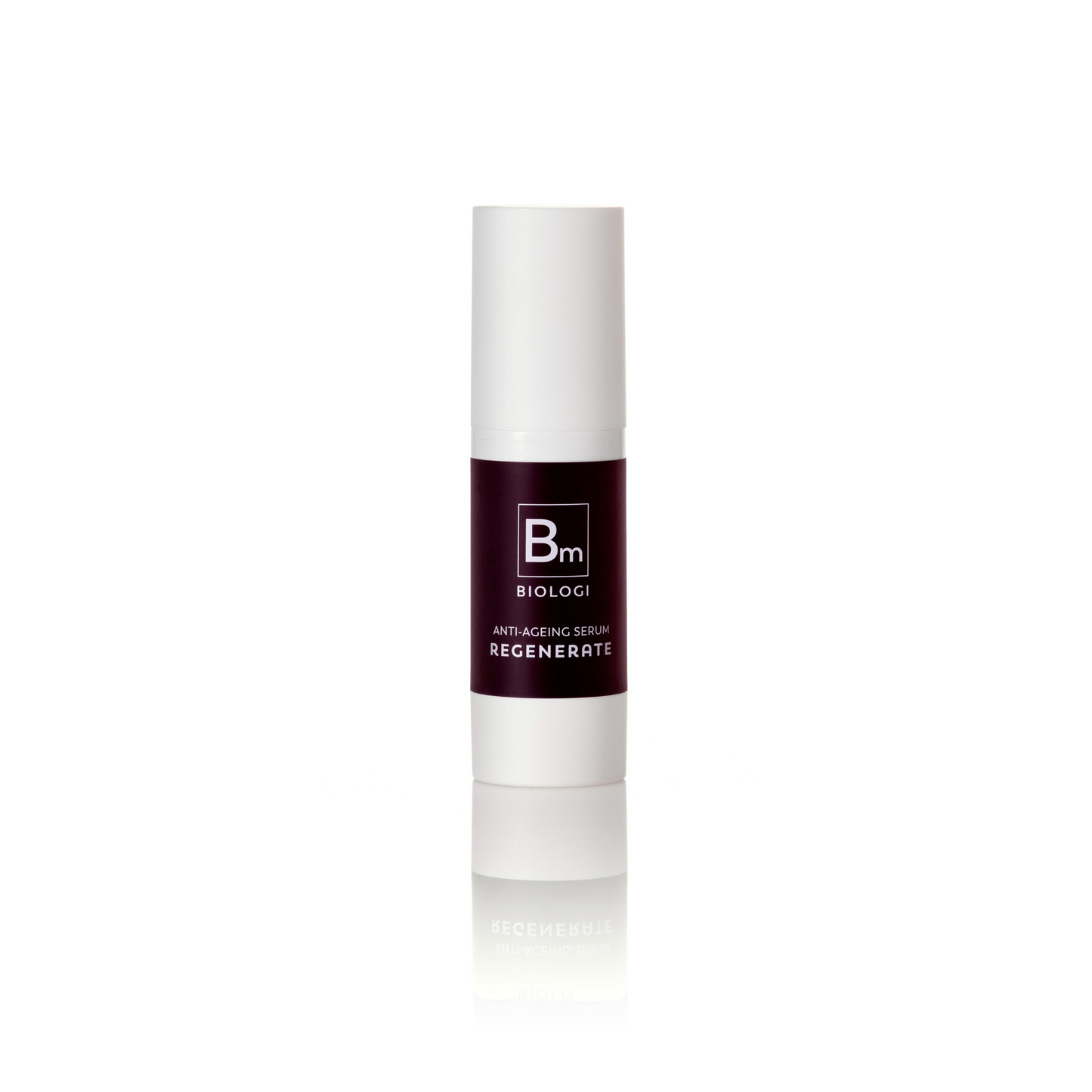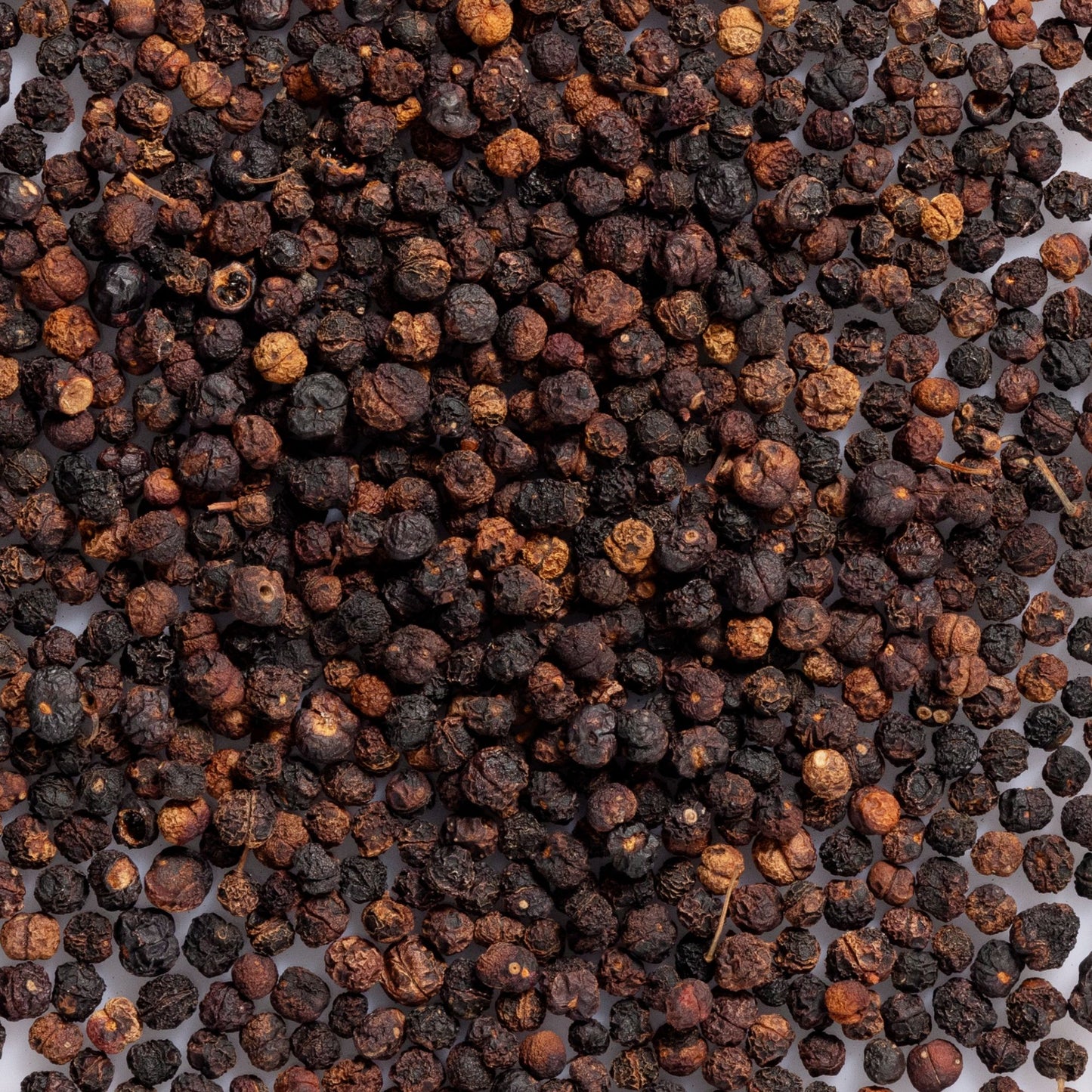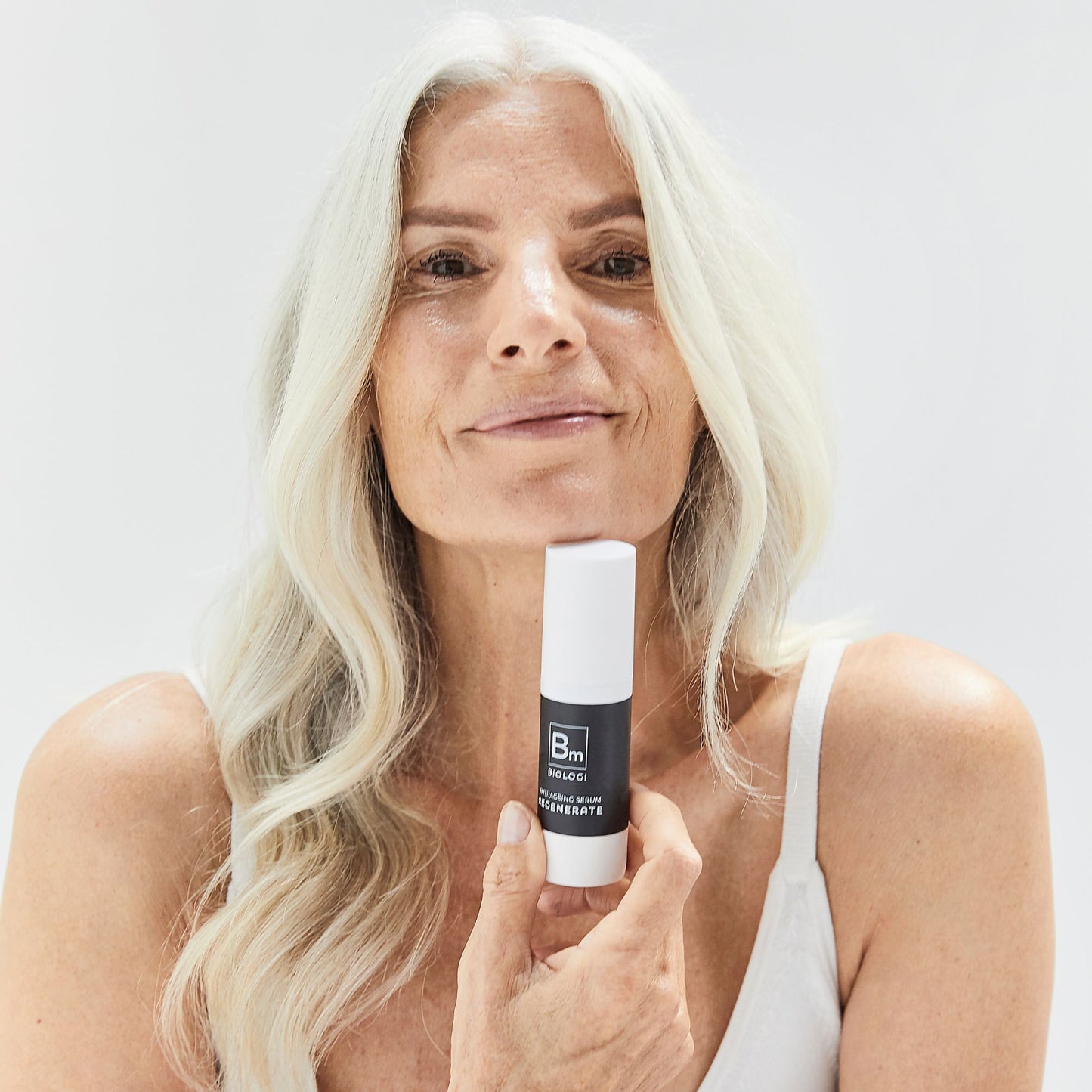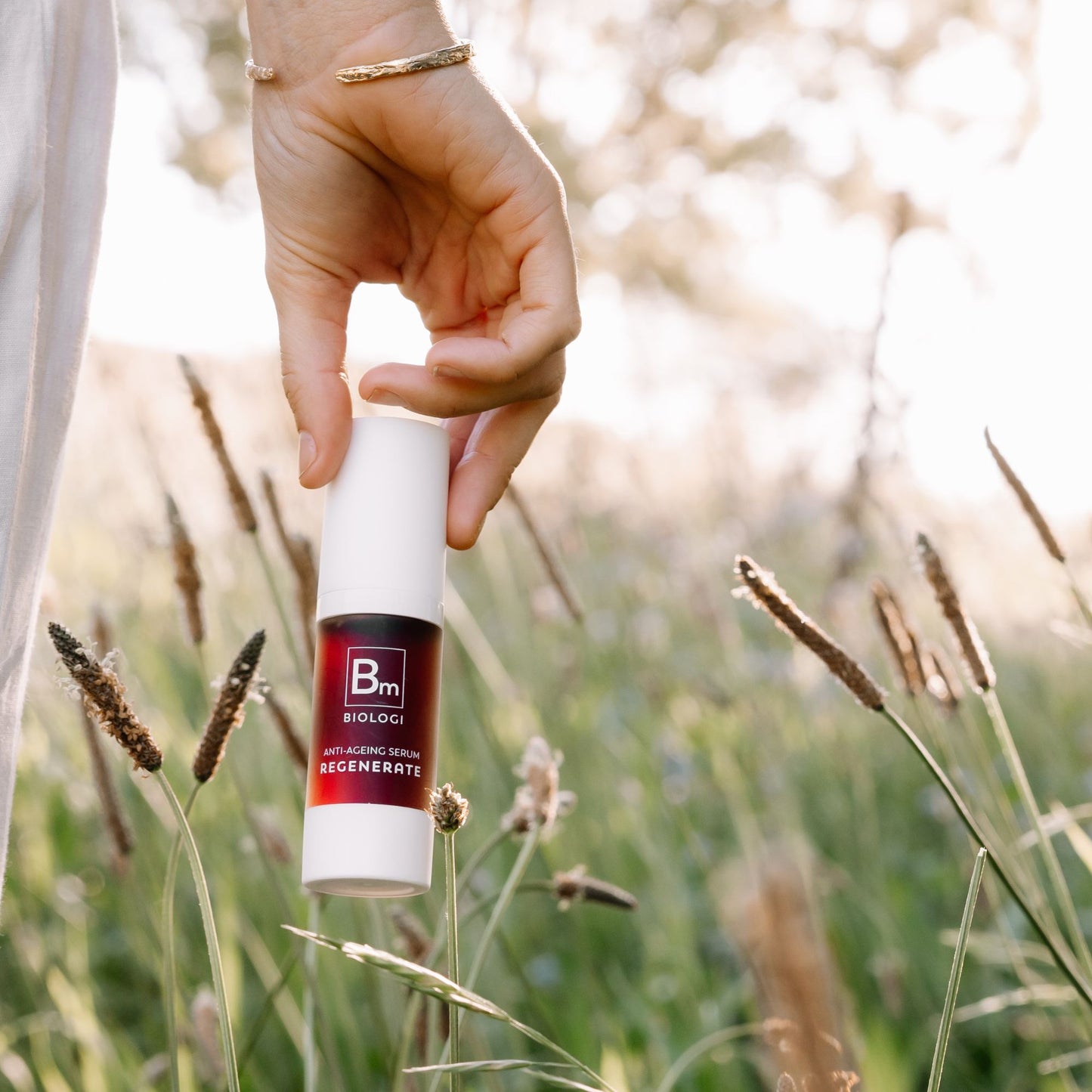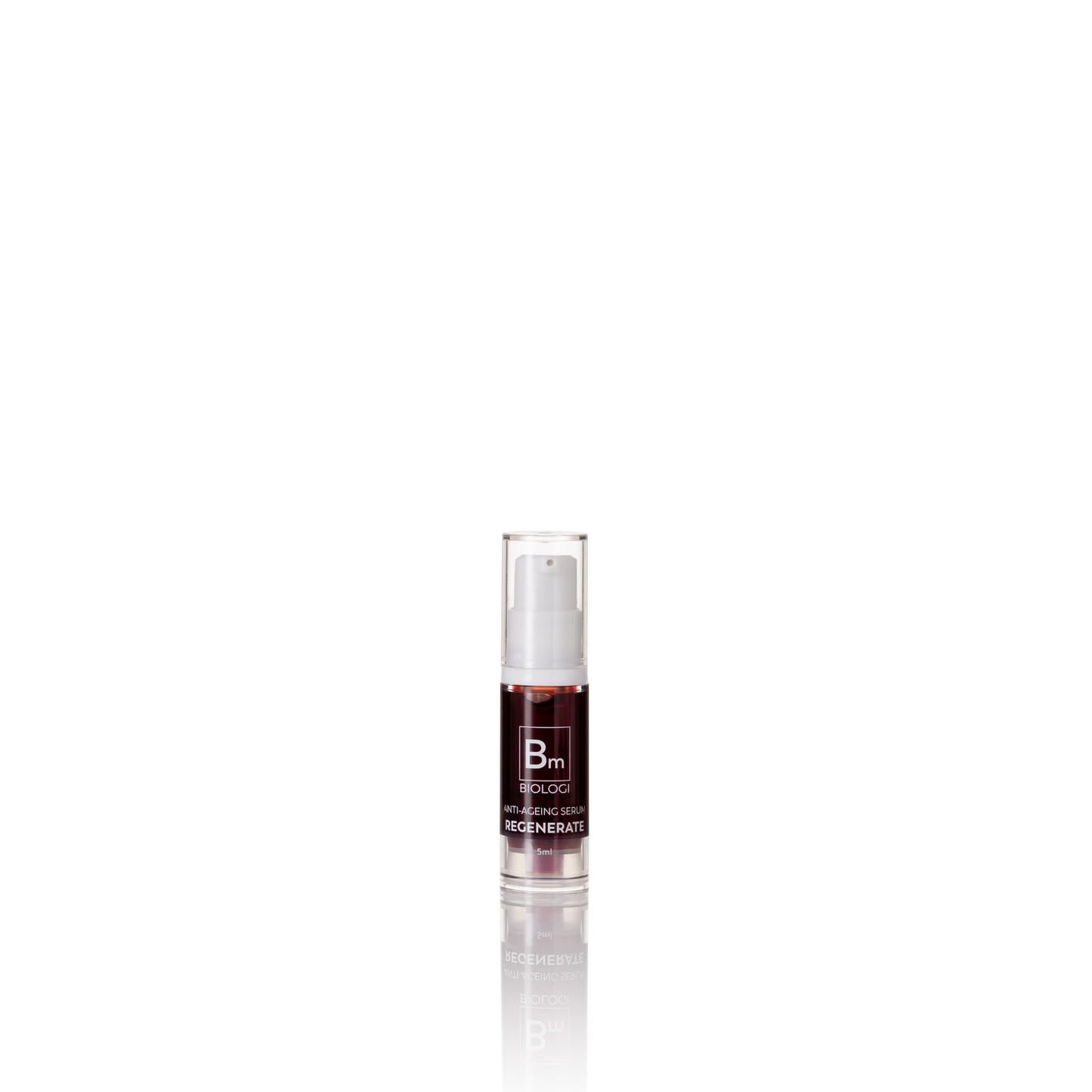 Our pro-ageing solution.
The only thing the skin needs to naturally minimise the impact of ageing is nutrients. Maintain healthy, radiant skin at any age.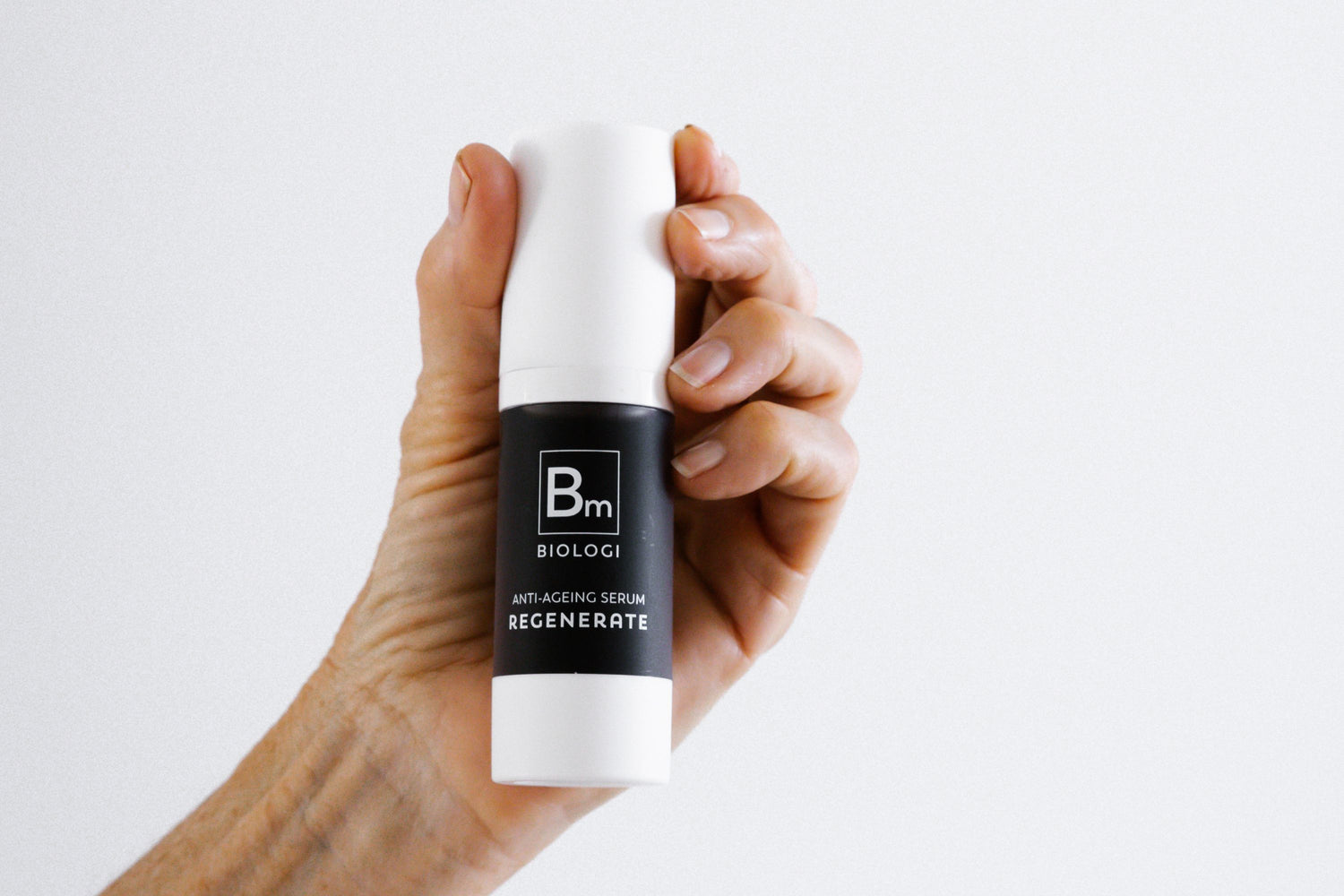 Use for
Bm Regenerate Anti-Ageing Serum is a Biologi serum that is setting new standards in pro-ageing skincare. Australian grown Mountain Pepper Berry has been chosen as the hero ingredient for Bm Regenerate Anti-Ageing Serum because of its superior antioxidant and collagen-boosting potential.
Excellent for anyone concerned with preventative ageing, premature ageing, ageing skin. Suitable for sensitive skins. Can also be used to target ageing concerns on the neck and décolletage.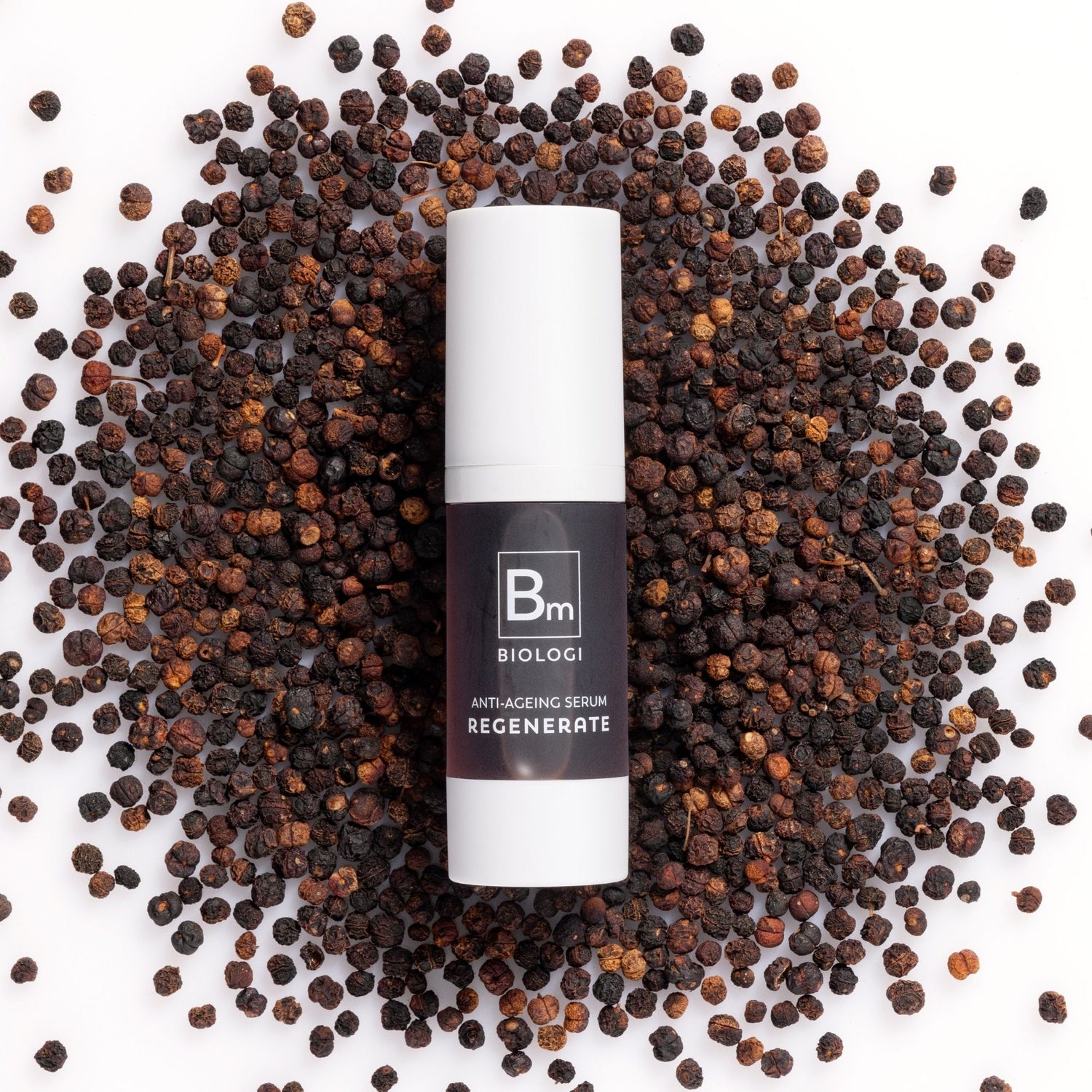 Mountain Pepper Berry
This native shrub is grown in abundance in the cooler, wetter climates of Tasmania and the south-east Australian mainland. Mountain Pepper Berry helps to improve collagen production to slow the visible signs of ageing and has high antioxidant properties to quench free radicals.
Phyto-actives include: Rutin Tryptophan, Ferulic Acid.
LEARN MORE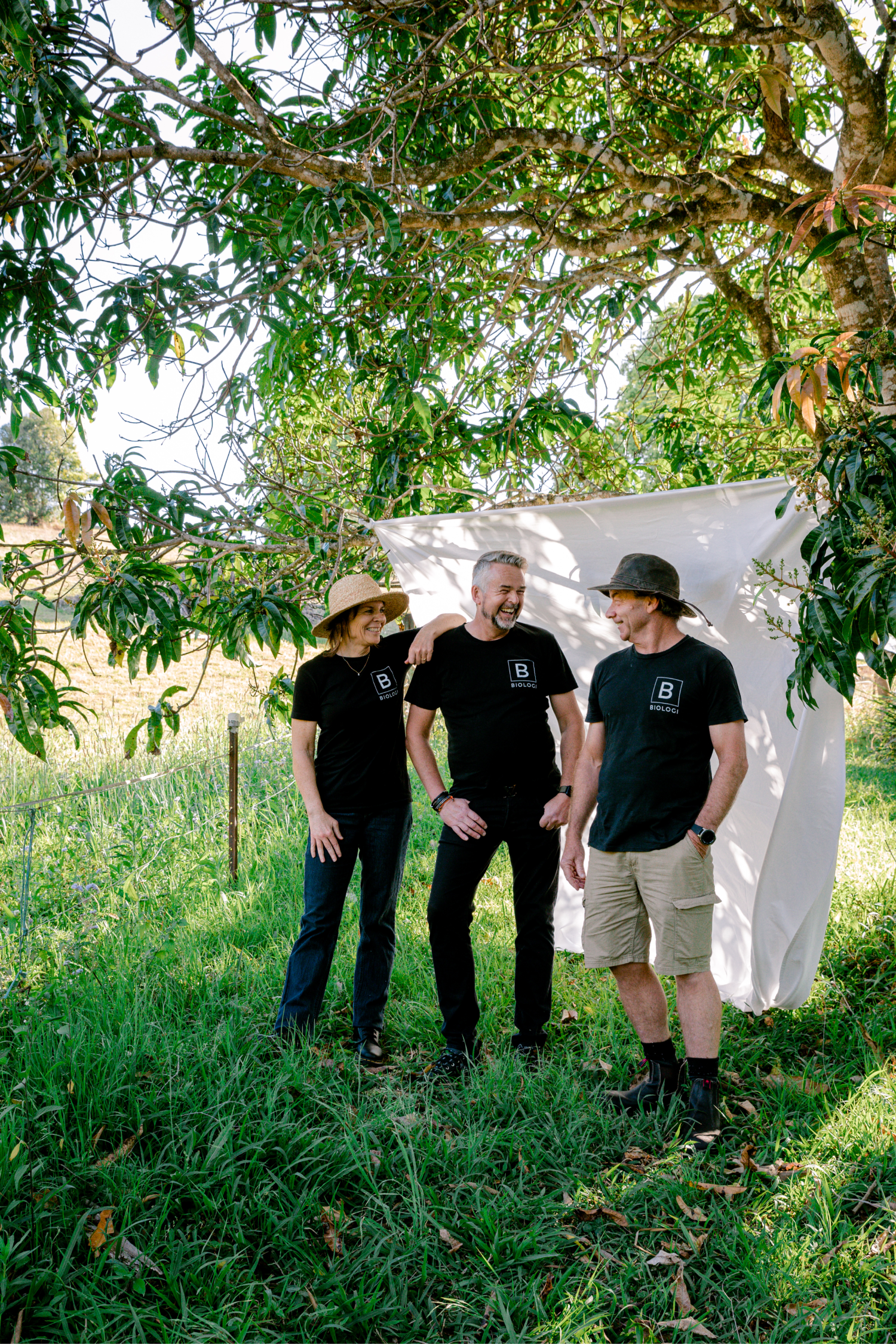 The story
Founded in 2017, Biologi is a profoundly different approach to skincare that delivers unheard of results. Australian based, made and owned, we are entirely accountable for the production process and lifecycle of our products - from plant to bottle to pore.
READ MORE
Frequently Asked Questions
Most Anti-Ageing Serums Are For Night Use, Can I Use This In The Morning?

Absolutely! The Bm Regenerate Serum may be used in the AM, PM or both AM and PM. It is easily incorporated into any targeted pro-ageing regime. For daytime use, once you have applied the Bm Serum, ensure it has time to penetrate(a couple of minutes) before applying your essential daily sunscreen or optional make up.
Should I Still Use My Anti-Ageing Moisturiser?

When you use Biologi serums, there's no need to use any moisturiser of any kind. Everything the skin needs is found in the natural actives that make up the serum.
I Have Sensitive Skin, Can I Still Use Bm Regenerate Anti-Ageing Serum?

Bm Regenerate is perfect for sensitive skin. It's free from all harsh synthetics that commonly lead to irritation, including fragrance and retinoids.
Can I Use This Instead Of Retinol?

Yes. Retinol is a synthetic derivative of vitamin A. We recommend that to boost vitamin A, you apply Br Rosehip Oil after Bm Regenerate.
Can I Use Bm Regenerate Straight After I've Washed My Face?

So that the active ingredients remain stable and active, the serums should avoid contact with water. Wait at least five minutes after washing your face before applying Bm Regenerate to make sure hands and face are completely dry and the skin receives all the benefits of the nourishing actives.